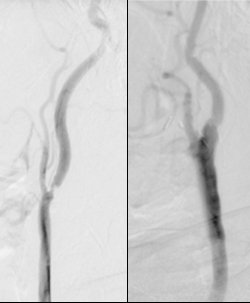 Before / After

When atherosclerotic changes progress to the neck arteries, flow limiting states may develop resulting in carotid artery stenosis. Symptoms of progressive carotid disease extend along a spectrum from the subtle to the most dramatic of strokes. Patients may complain of difficulty speaking, decreased vision, progressive dizziness, loss of motor function in an extremity or deficits in comprehension with memory loss.

While many still consider the gold standard diagnostic modality to be carotid angiography, carotid artery duplex in conjunction with either CT angiography or MRI has quickly become the diagnostic procedure of choice.



Similar to the revolutionary treatments of AAA's with percutaneous interventions and stenting, hemodynamically significant carotid artery disease may also be treated either by conventional carotid endarterectomy or with carotid artery angioplasty and stenting. As carotid endarterectomy is likely the most frequent procedure performed by a vascular surgeon, under the mentorship of Dr. Kenneth Ouriel and Dr. Jay Yadav, Dr. Gabriel learned the detailed workup and management of patients with carotid artery stenosis for carotid stenting.

While the best treatment option for carotid artery stenosis remains the subject of continued research and debate, general consensus exists regarding the indications for treatment based upon the North American Symptomatic Carotid Endarterectomy Trial (NASCET) and Asymptomatic Carotid Atherosclerosis Study (ACAS). For symptomatic patients, treatment is recommended for lesions >70% stenosis. For asymptomatic patients, treatment is generally reserved for those with 80 – 99% stenosis.